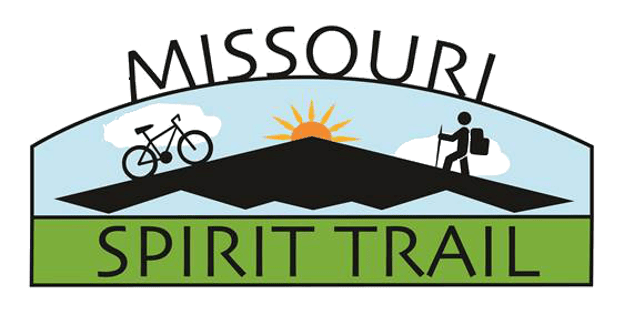 Plans are in place to connect the current Warrensburg area segment of the trail through Knob Noster State Park to the City of Knob Noster and Whiteman Air Force Base.
Routes are posted on Ride with GPS, that outline various ways to connect with the Rock Island Spur which intersects the KATY Trail by means of four scenic routes using existing roads between the Warrensburg train depot and Chilhowee, Holden and Medford, Leeton and Windsor.
Nationally the Spirit Trail will serve as a short section of United States Bicycle Route 51 (US BR51), traveling from New Orleans to Minneapolis.
Next...westward in Johnson County.
in 1995, the citizens of Warrensburg and Whiteman Air Force Base had a shared interest for a trail to connect the two communities. Phase 1 was completed in the late 1990s, but it did not fully connect the two locations.
In 2012, the Johnson County Trail Coalition, now known as the Spirit Trail Coalition, organized to continue a countywide pedestrian and bicycle trail system. Through the cooperative efforts of the Johnson County Commission, local Municipal Governments, Missouri State Parks, University of Central Missouri, Pioneer Trails Regional Planning Commission, State Legislators, Missouri Department of Transportation and Whiteman Air Force Base a 4-phase plan was developed with an anticipated completion timeline of eight to ten years.
With the assistance of the Missouri Department of Transportation, Great Rivers Engineering based in Springfield Missouri, Build-it Construction out of Nevada Missouri, and multiply funding sources, construction began August 2017.
A ribbion cutting for the completed eastern section of the Spirit Trail was held October 16, 2018.